Shadow Gardens consists of two four-plex buildings surrounded by mature shade trees. Each upper-level apartment has balconies both front and back. Lower level units have a small front garden area plus a patio deck in the back yard. The grassed area is maintained by management to insure a neat, pleasant area for tenants.

The two bedroom units are 904 square feet, the three bedroom units are 1,167 square feet. Each unit has its own laundry closet in the kitchen area; a coin-operated laundry is also available for tenants who may not have their own machines.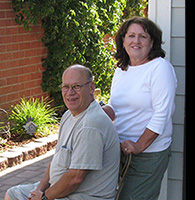 Shadow Gardens is tangent to Shadow Hills Park and is managed by resident managers H B & Debbie Clark who are available to assist tenants and to oversee the high quality of maintenance for both properties. You may call them direct: 541-882-3518 or 541-891-8370.